EaZy AC Coil Cleaner Spray
Powerful SELF-CLEANING spray for your AC unit's indoor coils that's both SAFE & NON-TOXIC

MINIMIZE EXPOSURE TO COVID-19 WHILE KEEPING YOUR AC'S IN TIP-TOP SHAPE
DO-IT-YOURSELF AIR CONDITIONER CLEANER SPRAY
EaZy AC Coil Cleaners utilizes enzyme technology, which is non-toxic and non-acidic to breakdown and digest dirt deposited in Airconditioner units. It is able to reach those hard-to-clean areas and clean them out.
EaZy AC Coil Cleaners provide up to 12 months residual protection to control and prevent mold, fungi and odor causing bacteria. This is especially good for those with newborns, seniors, asthmatics, and, people with allergies.
Cleaner coils result in improved air flow. This means, lower costs of running the AC and delivering cleaner, healthier air and improved comfort.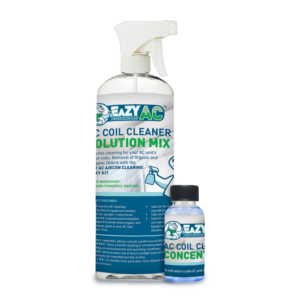 BEST FEATURES:
DIY Airconditioning cleaning!
No other equipment needed: Just the sprayer + concentrate
Powerful formula formulation designed to clean gunk in your AC unit.
Odour Free.
ENVIRONMENT SAFE: Bio-degradable ingredients
NON-TOXIC: Safe for people and pets
NON-ACID, NON-ALKALINE: Won't corrode your equipment
Please refer to information below for proper and effective use of EaZy AC Coil Cleaner Spray.
PREPARATION
PRODUCT APPLICATION
RECOMMENDED USAGE
SAFETY REMINDERS
STORAGE
PREPARATION
Ensure that your aircon is working properly before cleaning. Turn off the unit and unplug for safety.
Dilute the concentrate into the spray bottle as provided. Add 450ml lukewarm (ideally 35-40°C) tap water. Do not over dilute.
Open the unit cover to remove the filter cartridge and wash the filter separately. For best results, pre-clean your Aircon unit by vacuuming or brushing off all visible debris, such that the EaZY AC solution may seep deep into the coils.
PRODUCT APPLICATION
RECOMMENDED USAGE
SAFETY REMINDERS
STORAGE
We will assume no liability if your equipment is damaged due to improper application of product.