EaZy AC Coil Cleaner Spray
Powerful SELF-CLEANING spray for your AC unit's indoor coils that's both SAFE & NON-TOXIC

MINIMIZE EXPOSURE TO COVID-19 WHILE KEEPING YOUR AC'S IN TIP-TOP SHAPE
DO-IT-YOURSELF AIR CONDITIONER CLEANER SPRAY
EaZy AC Coil Cleaners utilizes enzyme technology, which is non-toxic and non-acidic to breakdown and digest dirt deposited in Airconditioner units. It is able to reach those hard-to-clean areas and clean them out.
EaZy AC Coil Cleaners provide up to 12 months residual protection to control and prevent mold, fungi and odor causing bacteria. This is especially good for those with newborns, seniors, asthmatics, and, people with allergies.
Cleaner coils result in improved air flow. This means, lower costs of running the AC and delivering cleaner, healthier air and improved comfort.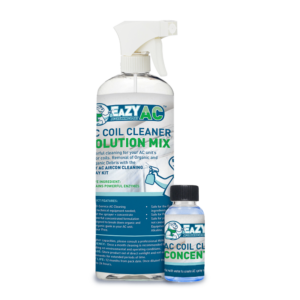 BEST FEATURES:
DIY Airconditioning cleaning!
No other equipment needed: Just the sprayer + concentrate
Powerful formula formulation designed to clean gunk in your AC unit.
Odour Free.
ENVIRONMENT SAFE: Bio-degradable ingredients
NON-TOXIC: Safe for people and pets
NON-ACID, NON-ALKALINE: Won't corrode your equipment
Please refer to information below for proper and effective use of EaZy AC Coil Cleaner Spray.
PREPARATION
Ensure that your aircon is working properly before cleaning. Turn off the unit and unplug for safety.
Dilute the concentrate into the spray bottle as provided. Add 450ml lukewarm (ideally 35-40°C) tap water. Do not over dilute.
Open the unit cover to remove the filter cartridge and wash the filter separately. For best results, pre-clean your Aircon unit by vacuuming or brushing off all visible debris, such that the EaZY AC solution may seep deep into the coils.
PRODUCT APPLICATION
For maximum effect, adjust the spray setting to "jet" (about 1 cm "narrow" spray), such that the EaZY AC solution goes deep inside the coils. Be sure to fully apply all of the solution for the intended unit capacity, within 12 hours from mixing with water.
Spray solution from about 3 inches away from the coil, beginning from the top of the coil to bottom, moving sideward, to cover the entire surface of the coil. Use a different spray angle to cover more area inside the coil.
Slight foaming may occur, which shows that EaZY AC is doing its work.
Leave solution in coils for 20 minutes before rinsing.
Rinse off the coils with water, by spraying from the bottom of the coils, moving to top. Use a 45° angle so that the dirt is pushed down rather than deeper into the coils.
Continue to rinse until all foaming has stopped and water leaving the coils are clear. If not, repeat the rinsing process from the previous step.
For additional protection, apply the drain tablets afterwards to protect your AC drain trays from blockages and overflowing.
You're done. Return everything the way it was before you started, and clean up any spills.
RECOMMENDED USAGE
| CONCENTRATE | SPRAY SOLUTION | INTENDED CAPACITY |
| --- | --- | --- |
| 1 vial | 450 ml | 1 Ton or 1.5 HP |
| 2 vials | 900 ml | 2 Tons or 3 HP |
SAFETY REMINDERS
SAFETY & FIRST AID: Wear gloves and goggles for protection, when administering the product. Avoid breathing mist, spray or vapors. Product is slippery when spilled.
EYE CONTACT: Rinse cautiously with water for several minutes. Remove contact lenses if present and easy to do – continue rinsing. If eye irritation persists, get medical advice/attention.
IF SWALLOWED: Immediately rinse mouth and drink plenty of water. Seek medical attention if symptoms persist.
SKIN CONTACT: Remove contaminated clothing. Rinse skin with plenty of water.
INHALATION: Remove from contaminated area. Move to fresh air, rest patient. If required, seek medical advice.
STORAGE
STORAGE: Store product out of direct sunlight and not exposed to hot environments for extended periods of time.
SHELF LIFE: 12 months from pack date. Once diluted the solution is only effective for up to 24 hours.
We will assume no liability if your equipment is damaged due to improper application of product.